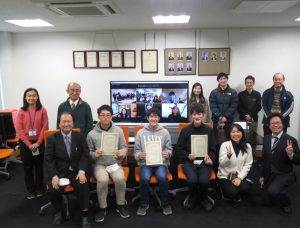 The second phase of the international exchange video contest launched at our school this year was held and an award ceremony was held online. In the second round of the contest, 52 students participated, including overseas students mainly from Thailand and Vietnam, including high school students from Toyota City in addition to students from our school. From October to December, the students discussed the SDGs (Sustainable Development Goals) and created a video in pairs about what they can do from the perspective of young people.
For the screening, we received cooperation from various fields, including alumni of our school, Toyota City Hall, Himawari Network, Kojima Co., Ltd., Miyoshi City Residents' Association, and people involved in the SDGs.
It was difficult to communicate with people I had never met before, overcoming language barriers, time differences, and school schedules. That's why the pair showed great teamwork and received high marks in the judging.

While various international exchanges have been canceled due to the influence of the new coronavirus, our school has launched an international exchange video contest with the aim of promoting international understanding and improving international communication skills. We hope that these opportunities will encourage students to explore what they can do even in the midst of the coronavirus pandemic and deepen their international understanding.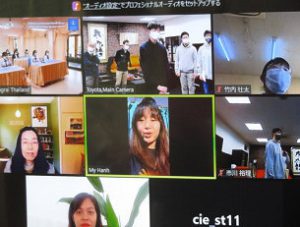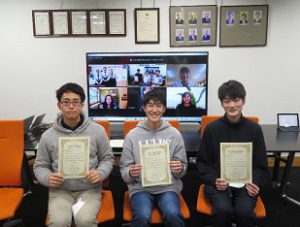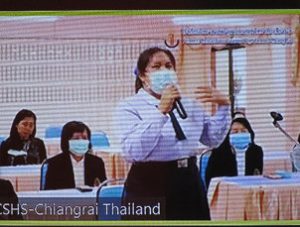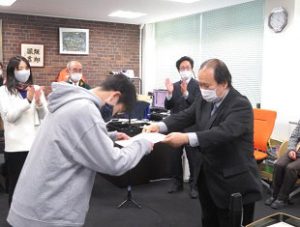 Students and teachers from Thailand and Vietnam participated online!
Here are the winners of the second contest along with their comments! The URL of the created video is also posted. Please take a look.
< comments from overseas students are translations of the comments they heard at the award ceremony and the messages they received. >
Grand Prize: https://www.youtube.com/watch?v=2Vj98DBls6M&feature=youtu.be
Kotaro Miyamoto (2nd year, Department of Electrical and Electronic Systems Engineering)
I couldn't believe it when I heard that our pair had won. I had a lot of fun making videos with my partner and I'm insanely grateful. I would also like to thank the teachers for creating such an opportunity. This made me want to go to Thailand.
Miss. Wannida Lamoonkit (Thailand)
First of all, I would like to thank my partner, Kotaro. We were able to make a good video together. And I would like to thank Toyota National College of Technology for giving me such a wonderful opportunity. Thank you to all the teachers who supported us. And most of all, thank you Kotaro for making the video to achieve your goal. I am very happy to be here (*online award ceremony).
2nd place:https://youtu.be/X-twtJ0V95E
Hironobu Suzuki (2nd year, Department of Electrical and Electronic Systems Engineering)
I am very happy to receive this award and would like to thank my partner Paphaphin Inpleng and the teachers who teach me every day.
I was not very good at English, so I ran into various obstacles in participating in this contest. On the other hand, I also found a lot of improvements to my English. Therefore, I would like to use this experience for my future studies.
Miss. Paphapin Inpleng (Thailand)
First of all, I am glad that I was able to participate in such a contest. I'm very proud. And I am grateful to my partner. I can't believe I won the award. Thank you very much for receiving this award.
3rd place:https://youtu.be/-Cs06d5pJLg
Ryo Takezawa (1st year, Department of Information Engineering)
It was the first time for me to collaborate while communicating with students from overseas. At first, I was confused, but my partner actively gave me my opinion, so I was able to create the video smoothly.
Thank you for giving me such a wonderful opportunity.
Miss. My Hanh Dao (Vietnam)
The contest is a great program to connect young people, and it helped me learn about different cultures. I was also able to gain the experience of overcoming language barriers, cultures, and geographical distances. I am very happy to finish in third place. I am grateful to my partner and teachers who have always helped me. I participated in today's online award ceremony and was impressed by the teachers and friends. I am very happy to be able to participate with all of you.
Honorable Mention: https://youtu.be/bnV_4dKhQkE
(*Yamamoto-san and Katti-san posted the URL of the third video that was particularly highly evaluated.) )
Mayu Yamamoto (2nd year student at Toyota Nishi High School)
I am delighted to receive this special award. It was my first time working with people from overseas, and I was full of anxiety at first, but as I kept in touch with my partner, I was able to learn not only about the content of video production, but also about each other's countries and hobbies, and I had a great time. Thank you for giving me this wonderful opportunity.
Miss. Chanikan Katti (Thailand)
I'm glad I was able to make the video with my partner. Thank you very much.