From Toyota to the world
Our school is a school that is active in studying abroad and understanding different cultures. Every year, about 40 students (second- and third-year students) with excellent grades study abroad in the United States, Europe, South America, etc. for one year using the AFS and YFU long-term study abroad programs (leave of absence from school).
International students attend local high schools while staying with homestays. Through school life (classes, club activities, etc.) and homestays, students will come into contact with many different cultures and return to their home countries after growing a lot. Since returning to their home countries, many students who have studied abroad have become active core members of student associations, dormitory associations, and community volunteer activities.
Study abroad results at Toyota National College of Technology by AFS, YFU, etc. (1 year study abroad only)
Showa 57 [1982] ~ Reiwa 2 [2020]; Study abroad for 1 year only)
Number of students studying abroad: 841, number of countries dispatched: 42
USA(318) Germany(119) Australia(47) Switzerland(29) Belgi(28) Finland(24) Norway(20)
Sweden(18) Denmark(16) Hungary(16) Malaysia(15) Austria(15) Thailand(14) Costa Rica(14) Czech Republic(14) Netherlands(11) Italy(11) Argentina(10) New Zealand(10) Philippines(10)
Brazil (9) Chile (9) Estonia (7) Bolivia (6) Indonesia (5) Panama (5) France (5) Ecuador (4) Spain (4) Mexico (4) Canada (4) Honduras (3) Uruguay (3) Iceland (3) Venezuela (2) Portugal (2) China (2) Hong Kong (1) United Kingdom (1) Russia (1) South Korea (1) Latvia (1)
Long-term study abroad for upper grades (4th and 5th year students, major students)
Long-term study abroad at the Department of Engineering, Faculty of International Studies, Aachen University of Applied Sciences, Germany
1 person in Heisei 24 / 1 person in Heisei 25 1 person in Heisei 29 year 2 in Heisei 30 1 person in the first year of Reiwa
Purpose and Significance of Study Abroad
In accordance with the principles of AFS and YFU, we encourage students to study abroad with an emphasis on international understanding and cross-cultural understanding. (This is not a language study abroad or language training.)
By exposing students to different cultures (language, ethnicity, religion, history, diet, etc.), they aim to establish an identity (as a technical college student, as a Japan person, and as a future engineer), and at the same time, students will learn that every individual and every culture has their own dignity and value. We believe that studying abroad will greatly lead to the development of engineers and character development with an international mindset that is free from prejudice and discrimination.
Effects and Evaluation of Long-term Study Abroad
Every year, about 40 students study abroad in about 10 countries for one year for a long period of time, which is the best in Japan, except for some universities.
Many students who have studied abroad come into contact with many different cultures and return to their home countries with communication skills. Since returning to Japan, he has been active as a core member of student associations (president, vice president, etc.), dormitory student associations (dormitory presidents, vice presidents, etc.), and community volunteer activities (AFS and YFU). Study abroad experience is a great asset not only for those who have studied abroad, but also for schools and local communities.
Secondary effects:
(a) Improvement of language proficiency (English proficiency): Those who have studied abroad are improving their English proficiency even outside the English-speaking world. In addition, studying abroad is organically linked to our university-wide English extensive reading and listening instruction.
(b) Advantageous for employment: Students with study abroad experience who have acquired communication and survival skills are highly regarded by companies.
International Exchange Video Contest
In the second year of Reiwa, we launched an international exchange video contest at our school. This is a project in which technical college students are paired with overseas students and jointly produce presentation videos using Teams and other means.
From the world to Toyota
International students dispatched by the Malaysian and Mongolian governments, as well as government-funded students from the Ministry of Education, Culture, Sports, Science and Technology, are studying at our school. Since April Reiwa, 12 international students have been living in the dormitory while studying specialized subjects and Japanese and Japan circumstances.
Mongolia (7 winners)
Malaysia (4 people)
Cambodia (1 person)
Main activities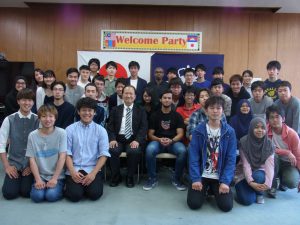 Roundtable meetings for international students (6 times a year), cross-cultural understanding activities (international students introduce their home countries)
April: Welcome party for international students
October: Study tour (tentative)
November: Koyo Festival (Cultural Festival) Opened a mock store
December: Lecture at the International and Cross-Cultural Understanding Course for Lower Grade Students
February: Farewell party
Photo list
Long-term study abroad at the Freshman Program at the German Aachen University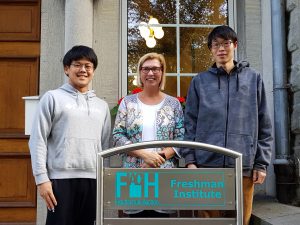 Koyo Festival (Cultural Festival)