What kind of school is Toyota Kosen?
Five-year integrated education for junior high school graduates
There is also a Advanced Engineering Course for Bachelor Degre (bachelor's program), and it is a substantial integrated high school and university
About 90% of university students go on to national or public universities (transfers)
Employment rate close to 100% (many job offers recommended by schools)
Number of students studying abroad, top technical colleges in Japan
Number of students living in student dormitories, top among technical colleges in Japan
Cafeteria, shop, hot shower (gymnasium facilities)
What can I learn?
At Toyota Kosen, which is the same higher education institution as the university, you can learn the following in five departments.
Department of Mechanical Engineering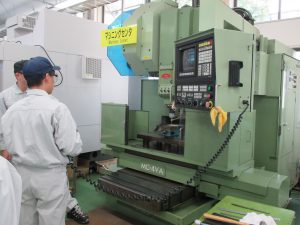 The goal of the Department of Mechanical Engineering is to cultivate the basic academic skills necessary for future engineers.

Specifically, we are devising ways to systematically learn mechanical engineering from low-tech to high-tech by placing the fields of materials and mechanics that pursue functionality and safety, thermal and fluid dynamics fields that pursue efficient use of energy, machine tools and processing fields that aim at the origin of manufacturing, measurement and control fields that pursue high precision, and computer technology, which has developed significantly, as a pillar of education.

In addition, we devote a lot of time to design and drafting, experiments, and practical training, etc., and provide education that allows students to feel the importance of "manufacturing," which is the origin of engineering.
Department of Electrical and Electronic Engineering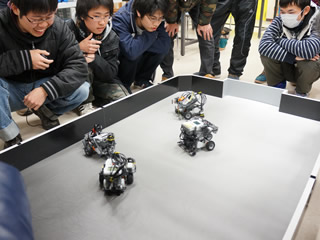 The Department of Electrical and Electronic Engineering provides education in the three fields of electronics, information and communications, and energy, as well as the fields of system technology that interconnect them. Electronics and information communication are indispensable technologies for today's and future societies with the development of computers, information equipment, and automatic control equipment. Energy is also an important source of power that supports social infrastructure. In education in these fields, we place particular emphasis on a solid understanding of basic specialized subjects and a wealth of experimental practice. In addition, computer-related subjects are designed to allow continuous study from the first to the fifth grade. In graduation research, we provide guidance so that students can consolidate the knowledge they have acquired so far and train them to think, implement, and evaluate for themselves. Through this kind of education, the Department of Electrical and Electronic Engineering aims to nurture creative development engineers who can play an active role in various fields in the future.
Department of Information and Computer Emgineering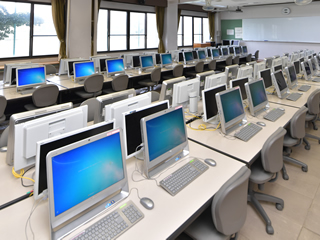 The purpose of the Department of Information and Computer Emgineering is to train advanced information processing engineers who can respond quickly to changes in society.

Information processing engineers must acquire not only computers and peripheral skills, but also a rich education as human beings. In addition, it is necessary to have a deep insight into what computers can do and what they should not do. The Department of Information and Computer Emgineering does not simply teach programming technology for computers. We emphasize the basic subjects necessary for information processing engineers and provide education to develop creative human resources.
Department of Civil Engineering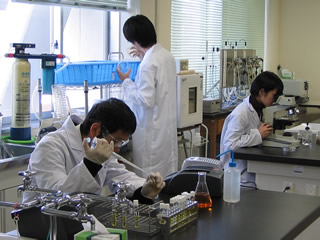 In addition to construction techniques for the creation of rich and comfortable living spaces, the Department of Civil Engineering aims to newly educate environmental conservation and sustainable development technologies in order to preserve irreplaceable assets for humankind, such as the natural environment and cultural historical heritage, for the future.

Courses in the Department of Civil Engineering are divided into five categories: basic subjects, common specialized subjects, urban construction subjects, environmental subjects, and others. In the basic subjects, students learn applied mathematics and information processing as subjects related to science and mathematics and computers necessary for studying specialized subjects, and in the common specialized subjects, students learn surveying and structural mechanics, which are the basics for studying applied specialized subjects. In urban construction courses, students study construction management plans and urban planning related to urban planning and construction technology, and in environmental subjects, they study environmental engineering and environmental assessment related to environmental problems and environmental conservation technologies. Furthermore, based on the academic skills acquired, students acquire environmental conservation and sustainable development technologies through experimental training and graduation research. In addition, in order to facilitate the adaptation to the age of technological innovation, we aim to develop engineers who can adapt to the information society by incorporating plenty of computer-related courses.
Qualifications available after graduation
Department of Architecture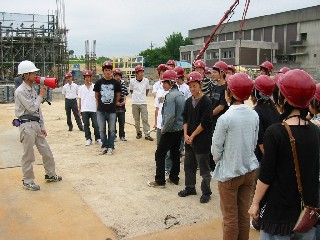 Architecture is a discipline that fuses "engineering" and "art". In addition, it is a vessel for life, and the wisdom and technology of our ancestors are utilized close to us.

Our school is open for the training of practical engineers. Therefore, in the curriculum of the Department of Architecture, practical subjects such as design drafting and experiments are provided more than in other departments of architecture of technical colleges so that students can participate in design competitions and cultivate basic knowledge for practical work. Thanks to this distinctive curriculum and the efforts of students, many students have recently won prizes in national-level design competitions and national technical college design competitions (commonly known as design competitions).

As mentioned above, the subjects include design and design drafting from the first year, and subjects such as architectural planning, structural mechanics, and environmental engineering begin in the second ~ third years according to the status of general subjects such as mathematics, and develop creative architectural engineers in five years.
Qualifications that can be acquired after graduation (examination qualifications)
2nd Class Architect
Wooden architect
School life
Club and Club Activities
Toyota Kosen supports club activities of the Physical Education and Culture Clubs so that students can have rich and meaningful experiences, and many students are engaged in sports and cultural activities. There are 21 clubs in the Physical Education Club, and 13 clubs and 5 clubs in the Culture Club, which are places for students to study each other.
The Tokai Regional Technical College Athletic Meet (16 sports events) held by the five technical colleges in the Tokai region from late June to early July as a place to announce the activities of the sports clubs, and the National College of Technology Athletic Meet (14 sports events) are held in late August. Last year (Heisei 29), Toyota Kosen won three team sports at the Tokai Regional Technical College Athletic Tournament, and the handball club won the National College of Technology Athletic Tournament.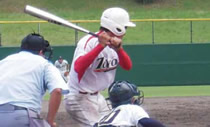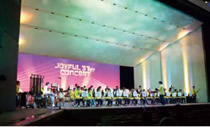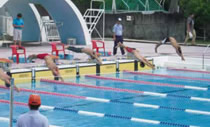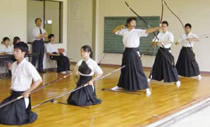 Message from alumni
KONNDO Jun (Department of Information and Computer Emgineering, IT Strategy Promotion Department, Brother Industries, Ltd.)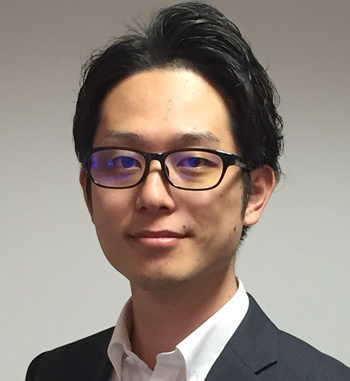 The days when I can get a job at a global company and get involved with people overseas as a matter of course and do the work I like have greatly contributed to my five years at a technical college.
Originally, I was interested in the information field before entering the university, but I was taught knowledge and skills that I could use firmly, and by the time I graduated, my love had changed to confidence. It is a merit unique to technical colleges that you can systematically learn from early to comprehensive periods, from basics to applications and the latest trends. In addition to acquiring knowledge in specialized fields, we are also blessed with a wide variety of opportunities. During my one-year study abroad program, I was able to experience many things beyond the university, such as contests, overseas dispatches, and academic conferences. Since there are a large number of teachers per student, I feel that it is also an advantage of Kosen that each of them can receive sufficient support from specialists.
I am currently working in the IT department and working in web/digital marketing. With the need for close communication with oneself, other departments, and outside the company, specialized knowledge is often questioned, and I am convinced that the fundamentals learned in the Department of Information and Computer Emgineering have led to the acquisition of trust in business.
I spend every day doing what I like to do for people. Isn't it lovely? If you are interested in engineering, I strongly recommend that you choose a technical college as a catalyst for such a future.
NAKAGAWA Yuki (Department of Civil Engineering, Toho Gas Co., Ltd., Pipeline Maintenance Department)
I entered the Department of Civil Engineering at Toyota Kosen because I wanted to take specialized classes in the field of engineering that supports people's lives. During my five years at a Kosen, I gained valuable experiences not only in terms of learning, but also in contact with seniors and juniors in the dormitory and fun memories at the school festival. Among the specialized fields I studied in the Department of Civil Engineering, I became interested in energy supply in cities. Currently, I am working as an engineer in the supply department of Toho Gas, where I am responsible for formulating plans for replacing aging gas pipes and compiling budgets.
I am working in a job that plays a part in the development of social infrastructure that supports people's daily lives, and I am living a fulfilling life by making use of what I learned in the Department of Civil Engineering. The first thing I felt after becoming a member of society is that many companies are looking for "young work-ready people with solid specialized knowledge," that is, technical college graduates. I am truly grateful to myself when I chose the Department of Civil Engineering at Toyota Kosen.
HATTORI Hiroyuki (Department of Architecture, Takenaka Corporation Building Technology Department)
As my seniors have said, the appeal of the Department of Architecture at Toyota Kosen is that you can study architecture immediately after graduating from junior high school, that you have seniors who are four years older than you, that you are close to the teachers, and that you can devote yourself to what you like. With the support of reliable seniors and teachers who consult with you about your studies and daily life from the same perspective, you can learn from an early age through friendly competition with friends in your specialized field and contact with them.
After graduating from the Department of Architecture at Toyota Kosen, I immediately became a member of society, and since then I have been working with people.
The works (buildings) that are completed through various processes are the result of the cooperation of many people. As a member of society that meets people's expectations, it is difficult to fulfill my responsibilities and act, but I am working hard every day with confidence from what I experienced in my technical college life. Of course, with the help of the people around me. Sometimes I also become on the side of helping.
Looking back on it now, I feel that I learned to help when I was helped, and that I learned to help when I helped through dormitory life at a technical college, club activities, and off-campus activities through contact with various people such as friends, seniors, and teachers. This is very useful now that I am a member of society.
In technical college life, everyone can have various valuable experiences and grow. If you like architecture, please aim to enroll in the Department of Architecture at Toyota Kosen, which has such an environment where you can study with peace of mind.
Tuition & Scholarships
Lower tuition fees compared to national universities
Comparing the annual tuition fees between Toyota Kosen and engineering universities, the 4th and 5th years of Toyota Kosen can study at a low tuition fee of about 1/2 of a national university and about 1/5 of a private university.
In addition, students in grades 1 to 3 (36 months in total from the time of enrollment) receive a school attendance support grant under the High School Enrollment Support Fund System if the income of the parent or guardian is less than a certain threshold (municipal inhabitant tax income rate of 304,200 yen (annual income of about 9.1 million yen)). The school attendance support fund is directly allocated to tuition fees, and the amount of tuition fee will be from 234,600 yen to 0 yen depending on household income. The living expenses in the student dormitory are 700 yen per month for the boarding fee and about 28,000 yen per month including meals (Heisei 29).

Tuition Exemption System
Students in the fourth year or above who are unable to pay tuition due to financial reasons and who are recognized as academically excellent will be exempted from the full or half of the tuition fee upon selection. In the 29th academic year, 35 students (including 4 major students) were exempted in the first semester and 35 students (including 4 major students) in the second semester.
Scholarships
Students who are excellent academically and personally, in good health, and who have significant difficulties in studying due to financial reasons, will be selected and loaned a scholarship (interest-free) in the amount shown in the table below from the Japan Student Services Organization of Japan. In the 29th academic year, a total of 41 students (including 3 major students) used this system.
Scholarship loan amount (monthly) (Heisei 30)
| | | | |
| --- | --- | --- | --- |
|   | Grades 1, 2 and 3 | 4th and 5th year students, majors |   |
| Commuting to school at home | ¥21,000 | ¥45,000 |   |
| Commuting outside your home | ¥22,500 | ¥51,000 | ¥40,000※ |
| Common to home and outside the home | ¥10,000 | ¥30,000 | ¥20,000※ |
* It can be selected when those who enroll after the 30th academic year advance to the 4th grade.
Toyota Kosen Q&A