What is a one-shot engineer?
A manufacturing engineer is a creative leader engineer who can see the entire process from the conception and planning stage of product and commercialization to the final process of shipping in a new manufacturing project, and demonstrate accurate technical management (MOT) skills to realize optimal competitiveness (product function, cost, development period, etc.).
It is expected that "manufacturing enthusiasts" who collaborate with engineers from different fields, have a multifaceted perspective on new technology fields, and have the ability to manage technology development issues will open up the possibility of new technological innovation and lead regional revitalization.
We train engineers who can take a bird's-eye view of the entire manufacturing process.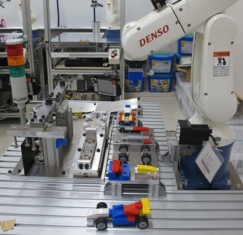 In this program, Toyota National College of Technology, Toyota City, and the Toyota Chamber of Commerce and Industry collaborate with Toyota National College of Technology to develop leading engineers of regional companies and the next generation of creative manufacturing practical engineers based at Toyota National College of Technology, targeting ambitious engineers and students majoring in technical colleges who aim to become core engineers in the regional manufacturing industry. There, a project team consisting of a mixture of corporate engineers and technical college students will be formed and engaged in practical research on the subject of "development of production systems" to develop the ability to see through manufacturing with a "one-shot view," and to improve problem-solving and technical management skills. (Implementation scene) (Past record) (Instant viewing)
Recruitment Information
This program will end with the recruitment of Heisei 31 (10th class).
* From the second year of Reiwa, we are planning to open a new successor course, "Digital × Manufacturing" College. For details, please refer to the following website.
URL  https://www.toyota-innov.aichi.jp/digi-mono/
Program Overview
Background and History
Toyota City and its surrounding areas are a major cluster of manufacturing industries centered on the automobile industry, and have driven Japan's economic development. However, in recent years, due to the rapid change in the structure of the industrial pyramid due to the intensification of global competition, local manufacturing SMEs are in a difficult situation. What is required of small and medium-sized manufacturing companies is changing from conventional "mass production" technology to "creating 'system products' and 'high-quality, high-value-added products'".
Therefore, engineers in small and medium-sized enterprises are also required to have the grounding of a leader engineer, such as product planning skills, technology development skills, problem solving skills, and technology management skills, and the ability to see the entire manufacturing process.
Against this background, Toyota National College of Technology has been accepting students since FY22 with the support of the "Formation of a base for creating human resources for regional revitalization" project under the Ministry of Education, Culture, Sports, Science and Technology's "Integrated Promotion of Social System Reform and R&D" (formerly Science and Technology Promotion Coordination Fund).
This program aims to (1) cultivate the ability to foresee the series of manufacturing processes from conception and planning to the final process, and (2) develop "creative leader engineers" with technical management skills.
The support project of the Ministry of Education, Culture, Sports, Science and Technology ended in FY25, but since FY26, this program has been continued by incorporating it into the business of the Toyota Innovation Center (a collaborative organization between Toyota National College of Technology, Toyota City, and the Toyota Chamber of Commerce and Industry), and we have continued to work to develop leader engineers.
From the second year of Reiwa, we plan to revise the program and open a "Digital × Manufacturing" College.
Program Features
1. Practical education that integrates engineering and practical studies
By combining engineering knowledge that is essential for creative manufacturing with practical skills required at manufacturing sites, we develop the ability to think from multiple perspectives. In addition, by learning the integrated manufacturing process in a practical manner, students will acquire technical management skills and problem-solving skills.
2. Practical training by a mixed team of corporate engineers and students
One project team consists of about 6~10 members, and about half of them are corporate engineers and majors. In addition, corporate engineers and science students are allocated so that their specialized fields do not overlap as much as possible, and a team consisting of members from different fields is formed. Through this, students will experience the importance of collaborating with engineers from different fields, develop teamwork skills, and play their own role in the team.
We also expect synergies from the collision between students' free ideas and ideas based on the experience of corporate engineers with an awareness of costs and delivery dates.
3. Construction of automatic assembly equipment
The core of the curriculum in this program is project practical training called practical research. The task is to build a production system to create products that meet the given requirements. Through the integrated manufacturing process, from the design of the manufacturing process to the processing and production of parts, equipment, adjustment, and operation, all project team members work together to achieve the issues.
Scene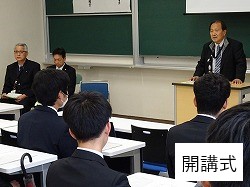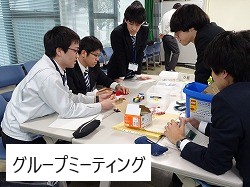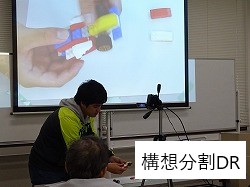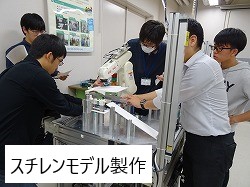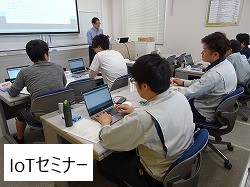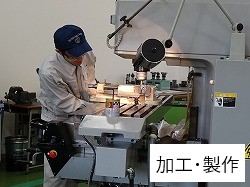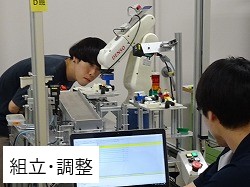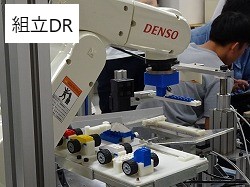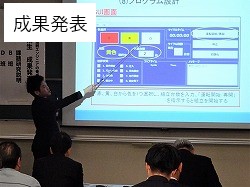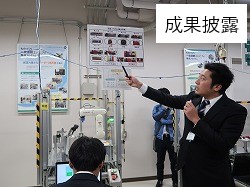 Past Records
Past records 1st term students (Heisei 22) ~ 9th term students (Heisei 30)
It's a one-shot view
No.22(Mar Reiwa)( PDF 2087.0 KB)
No.21(Published in September, Reiwa) ( PDF 592.0 KB)
No.20 (issued in March)( PDF 1872.0 KB)
No.19(Issued in September)(PDF 1318.0 KB)
No.18(Issued in March)(PDF 1082.0 KB)
No.17(Issued in September)( PDF 994.7 KB)
No.16(Issued in March)(PDF 981.6 KB)
No.15 (issued in October)( PDF 932.0 KB)
No.14(Issued in March)(PDF 991.9 KB)
No.13 (Issued in June)( PDF 538.6 KB)
No.12(Issued in March)(PDF 586.3 KB)
No.11(Issued in June)(PDF 537.2 KB)
No.10(Issued in March)(PDF 1087.6 KB)
No.9 (issued in September)( PDF 1121.8 KB)
No.8 (Issued in June)( PDF 1122.8 KB)
No.7 (issued in March)( PDF 1073.2 KB)
No.6 (issued in September)( PDF 1203.6 KB)
No.5 (issued in May)( PDF 2394.5 KB)
No.4 (issued in December)( PDF 1253.5 KB)
No.3 (Issued in June)( PDF 1050.0 KB)
No.2 (issued in December)( PDF 629.1 KB)
Contact us
Toyota Innovation Center Technical College
In charge of "Training of engineers who are all about manufacturing"
〒471-8525 2-1 Sakaeichō, Toyota-shi
Toyota National College of Technology, Community Joint Techno Center
TEL: (0565)36-5941   FAX: (0565)36-5829
E-mail: kikaku_p@toyota-ct.ac.jp