From September 19~22, 2023, the KOSEN Hydrogen Ideathon was held at our school, and 35 students from technical colleges all over Japan participated. Toyota National College of Technology is a partner school in the field of energy and the environment of the National College of Technology GEAR5.0 project (unit sub-leader: Associate Professor Sato, Department of Environmental and Urban Engineering, our school), and this was implemented as part of its activities.
Participants formed six groups that transcended their field of specialization, age, and area of residence, and each group examined and proposed ideas for the use of hydrogen that are familiar to them.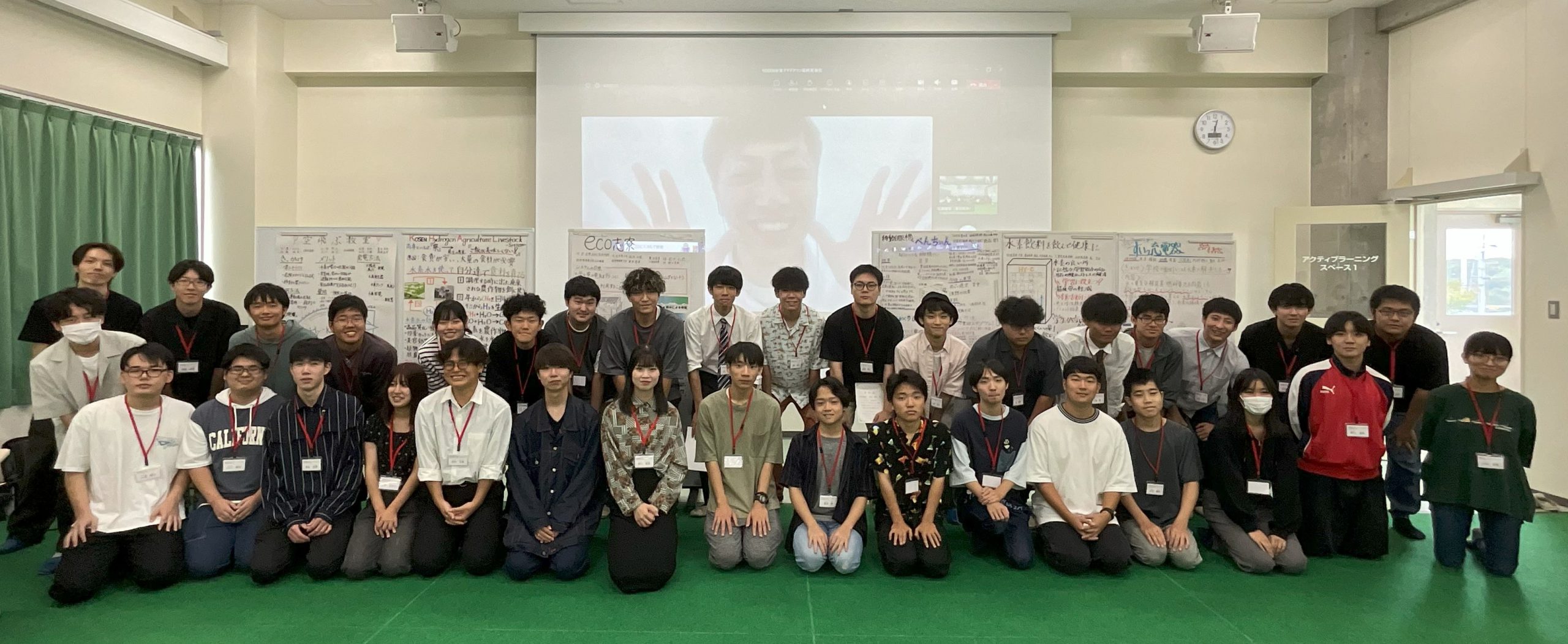 [Group photo of 35 participating students and final presentation commentator Mr. Harazaki (Sasebo National College of Technology alumnus)]
On the 19th, we visited Toyota Ecoful Town to learn about the actual situation of social implementation related to hydrogen. In addition, on the 20th, Assistant Professor Sasaki of the Department of Materials System Engineering, Kurume National College of Technology, gave a lecture on the basics of hydrogen, and on the 21st, Professor Inagaki of the Department of Information Engineering at our university gave a lecture on project promotion through industry-government-academia-money-private collaboration. In order to experience the atmosphere and city of Toyota City, these lectures were held not in the school, but in the rental space of kabo., which has been renovated from an idle facility in the center of Toyota City.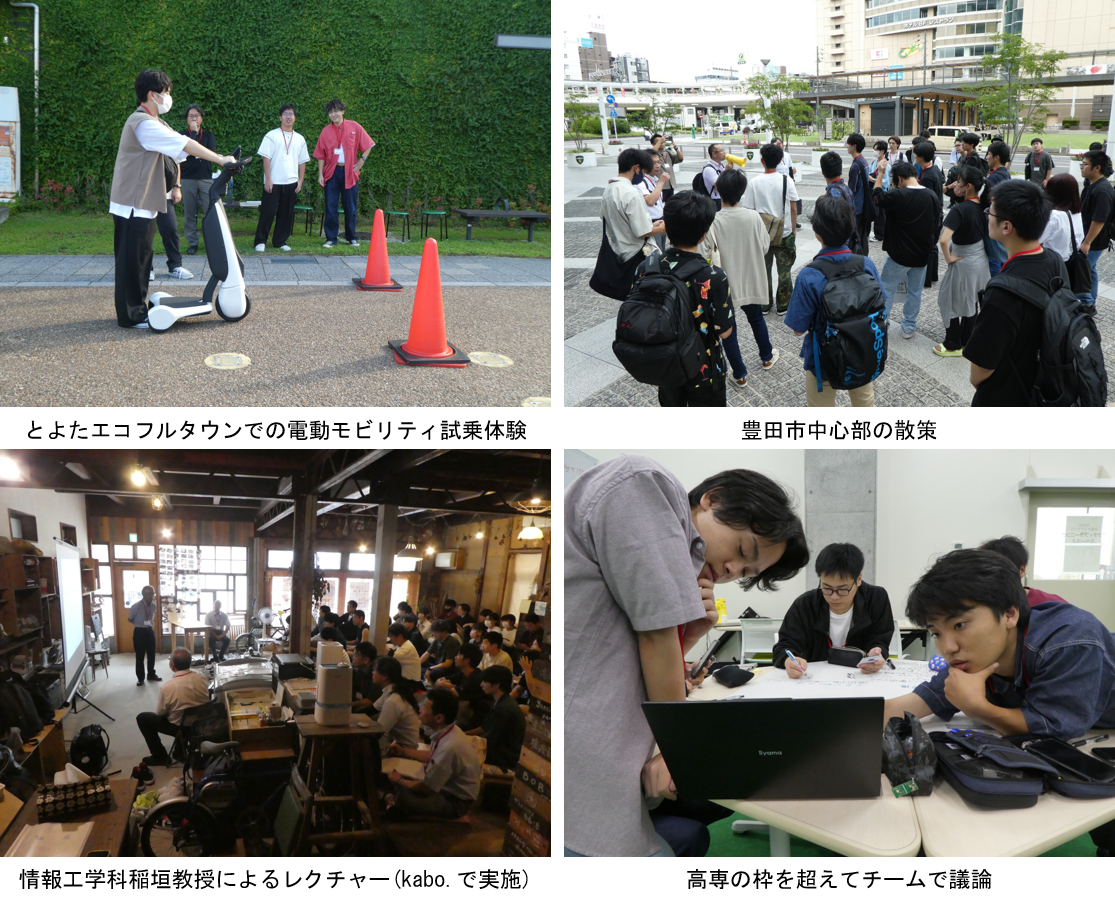 Based on these inputs, the group examined the ideas from the 20th ~ 22nd, and at the final presentation, each group made a concrete proposal that felt feasible. At the final presentation, Mr. Harasaki, a manager who has experience starting a business at Sasebo National College of Technology alumni, also participated online and commented on the proposals of each group.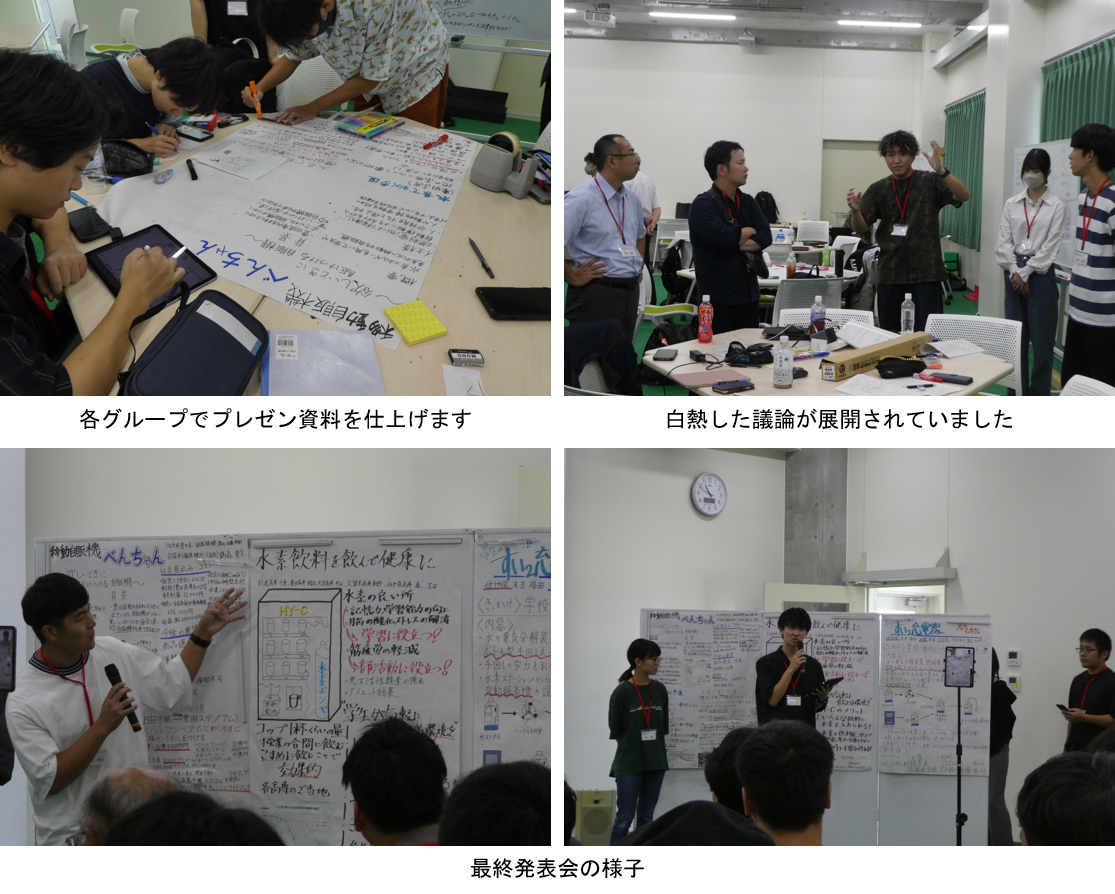 One student who participated said, "Compared to group work with classmates who are studying the same thing, I learned the importance of diversity by expressing opinions from various perspectives when working in a group with students from other technical colleges. Comments such as, "It was a good opportunity to learn about hydrogen, which is expected to be used as energy in the future, and I was able to learn about future Japan."
The KOSEN Hydrogen Ideathon was attended by students studying various specialized fields such as mechanical, electrical, electronic control, materials, and civil engineering and architecture. In addition to Associate Professor Sato of the Department of Environmental and Urban Engineering, who serves as a unit sub-leader of the GEAR5.0 project, Professor Inagaki of the Department of Information Engineering and Associate Professor Morikami of the Department of Architecture, who serve as supporting faculty members for the project, we also supported the project through the collaboration of faculty and staff members from across disciplines.