Outline of the Education Improvement Promotion Office
Toyota National College of Technology has established the Educational Improvement Promotion Office to promote educational improvement and improve the qualifications of teachers (FD: Faculty Development). The Education Improvement Promotion Office is an organization under the direct control of the principal, and consists of one director (faculty member), two general department faculty members, five specialized department faculty members (one in each department), and one full-time administrative staff.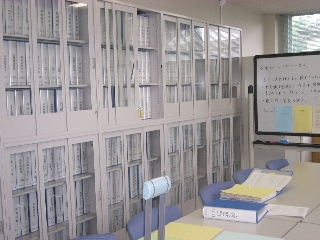 Main tasks of educational support
The Education Improvement Promotion Office
Planning and drafting of educational improvement plans
Measures to implement the Educational Improvement Plan
Evaluation and restructuring of educational improvement plans
Improvement of faculty qualifications
Retention of grading materials, etc. related to receiving accreditation and examinations through external organizational evaluations, etc. collected by each department, etc.
My job is to show improvement items to faculty members and propose improvement measures to various committees at Toyota National College of Technology.
Implementation status of educational improvement work
1. Improvement of the qualifications of teachers
Class Evaluation Questionnaire
We have been conducting class evaluation questionnaires by students for all subjects since the 12th academic year. Evaluation items include students' level of understanding, interests, confirmation of faculty comprehension, class preparation, and enthusiasm. The evaluation results are disclosed to faculty members and students on campus.
FD Symposium and FD Seminar
FD symposiums have been held 1~2 times a year since the 17th academic year, in which our teachers provide topics related to educational improvement. Since FY20, it has been held every other year along with FD seminars. We also asked professors invited from outside to give lectures. Topics covered include:
year
Symposiums/Seminars
Title/Theme
FY Reiwa 2
FD Symposium
Effects and challenges of BYOD implementation

Learn about educational methods using remote classes, various educational software, and educational contents

Heisei 31
FD Seminar
Utilization of Microsoft Teams for business and student guidance (Office 365 course intermediate)

Explain the various functions of Teams

Proposal for business management and introduction to educational sites
Teams Hands-on Exercises

 
FD Small Seminar
TOYOTA Round-Talk

Exchanging information on class management and practicing

Heisei 30
FD Symposium

Current Status of Advanced Education in Junior High Schools

Heisei 29
FD Seminar
Case reports and discussions on class management using ICT devices
-Survey system using Office 365

Case reports of class management using e-mail and ICT
Report on the use of AL support devices such as educclick
Opinion exchange meetings based on topic offerings

Heisei 28
FD Symposium

Active learning: Share understanding of "teaching and learning methods that incorporate learners' active participation in learning"

FD Small Seminar

Achievements and Issues of Extracurricular Activities Addressed Across Grade Departments: A Case Study of Multigenerational Participatory Urban Agriculture, Mountain, and Village Exchange

Heisei 27
FD Small Seminar

Global FD Training Report
Exchange of opinions on English education related to specialized education and the ideal way of teaching in English

Heisei 26
FD Seminar
Based on the opinions of the dialogue meeting with students

Methods for Gathering Student Opinions
Survey results feedback
Characteristics of students who take an F rating and how to respond
Create a cohesive class

Heisei 25
FD Symposium

Student guidance to encourage learning

Heisei 24
FD Seminar

What we value in class practice
Key points for improving classes
Motivation to continue teaching
Key points for class management
What we want students to learn

Heisei 23
FD Symposium

Please tell us your thoughts on education― Introduction to the Teaching Portfolio ―

Heisei 22
FD Seminar

FD debriefing session
Exchange of views on career support programs
Report on visit to Matsue National College of Technology

Heisei 21
FD Symposium

Survey on Students' Interest in Physics and Applied Physics
First in Japan! Introduction of support tools for teaching methods

FD Symposium

Learning Motivation Survey Questionnaire and PDCA
Analysis of the results of the class questionnaire that motivates
How to develop a desire to learn
Class Evaluation Questionnaire Revised

Heisei 20
FD Seminar

Learning and life guidance for students
What makes a good lesson?
Japanese Communication Skills Education
Collaboration between general and professional
Support for young teachers' worries and expectations

Heisei 19
FD Symposium

Results of Analysis of Aging Changes in Class Evaluation Questionnaires: Focusing on Understanding and Interest in Lecture Subjects
Survey on Academic Underperformance in the Lower Grades
Educational Guidance for First-Year Architecture Students for Motivation

Heisei 18
FD Symposium

Toward the Construction of a School-wide Class Improvement System (Invited Lecture: Professor Yasushi Tsuboi, General Subject, Anan National College of Technology)
Tohoho and Ahaha class practice (daily class practice report with class worries)
Case Report of PBL Experiment (Robot Contest in the Department) over Multiple Grades
Academic Retention of Specialized Subjects with Emphasis on Quizzes and Assignments

Heisei 17
FD Symposium

Scientific Presentation in English (Invited talk: Prof. Dr. Roy C. Sidle, Disaster Prevention Research Institute, Kyoto University)

FD Symposium

Initiatives for "Everyone Can Understand" Classes Using Presentation Tools
Utilization of lecture prints and their effects
The Potential of Engineering Ethics Education: Let's Become Proud Engineers (Invited Lecture: Prof. Kotaro Kuroda, Graduate School of Engineering, Nagoya University)
Innovations in Ethics and Society Classes
Correlation of Academic Performance over Academic Years
Construction and implementation of an outgoing English education curriculum
Japanese Communication Education in the Department of Architecture
Open Week
Since the 18th academic year, we have been holding a class open week in either spring or autumn, where teachers visit each other's classes. During this period, all classes (except when there are safety issues) are open to the public. Although it is not sponsored by the Education Improvement Promotion Office, a class visit week for parents is also held during the autumn school festival. And in FY24, the public period was set to 2 weeks, and from FY25, it was set to a total of 4 weeks of 2 weeks for both spring and autumn.
Teaching method support tool for young teachers
We are developing a teaching method support tool for young teachers with little teaching experience. It has been operated on a trial basis since FY20.
2. Inspection and evaluation of education
Checking the contents of the syllabus
We check course outlines, grading methods, class content, and achievement targets, and request corrections if necessary.
Questionnaire for graduates and corporate universities
In order to have our school's education evaluated externally, we have been asking for a questionnaire every year to graduates who have been five years after graduation since the 12th academic year, and we ask for a questionnaire to companies that have been conducted since the same year and a questionnaire to universities conducted from the 22nd academic year every three years.
3. Collection and storage of educational materials
We keep copies of books, class records, test answers, and assignments for use as evidence materials for third-party evaluations by JABEE (Institute for Japan Engineer Accreditation) and accreditation agencies, as well as materials for improving teachers' classes.
4. Proposals for improving education
Introduction of external evaluation (introduction of TOEIC)
Introduction of extensive English reading classes
Learning guidance that does not allow you to get an F rating
etc.