On Wednesday, July 24, we signed an MOU (Academic Exchange Agreement) with Albarqa University of Applied Sciences in the Kingdom of Jordan. Albarqa University of Applied University is one of the prestigious public universities in the Kingdom of Jordan and is a large university with one campus in each province of Jordan.
On the day of the event, Professor Mattok, Acting President of Albarka University of Applied Studies, visited the school, and after Principal Tagawa gave a greeting and an overview of the school, he toured the school. After that, a signing ceremony was held in the principal's office, and the two schools pledged to further exchange and develop.
After the signing ceremony, Prof. Mattock gave a lecture on the outline of Jordan's education system and Albarqa University of Applied Studies, and many faculty members participated, making it a very meaningful opportunity.
In the future, we will consider specific plans for faculty and student exchanges.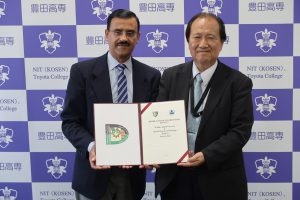 Acting President Mattock of the Albarka University of Applied Studies (left) and Principal Tagawa