At Toyota National College of Technology, international students and Japan students acquire an international perspective through daily exchanges.
An international dormitory (Huizhi Dormitory) was built as a place for communal living where people can learn about mutual understanding of culture, and a completion ceremony was held on September 6.
Did.
This time, since a state of emergency is being declared in Aichi Prefecture, only faculty and staff from the university will be present. From Principal Tagawa
Following the remarks, Mr. Yoshimi Saito, Director of the Planning Division of the Planning and Disaster Prevention Department of Educational Facilities of the Ministry of Education, Culture, Sports, Science and Technology, and Mr. Toshihiko Ota, Mayor of Toyota City,
The head of the General Affairs Division read a congratulatory message from Mr. Tetsuya Yagi, a member of the House of Representatives, followed by Principal Tagawa, Dormitory Director Kanesaka, and Imaoka Facility Environment
The ribbon was cut by the chairman of the maintenance committee and Mr. Okada. Later, Isao Taniguchi National College of Advanced Study
We watched a video message of acknowledgment from the president of the school organization.
The building is a reinforced concrete structure with three floors above ground, and the site area is 122,860㎡, and the total floor area of the building is 1,526㎡. On the first floor is a shared La
There is a tunneling space and a common space on the deck, and halal support for accepting international students with diverse cultures.
It is fully equipped with a shower room.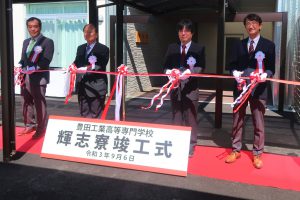 【From left: Chairman of the Imaoka Facility Environment Improvement Committee, Principal Tagawa, Dormitory Supervisor Kanesaka, Director Okada】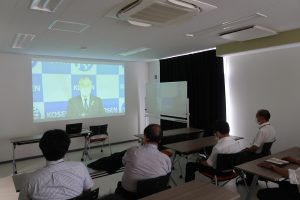 【Watch the congratulatory message from President Taniguchi】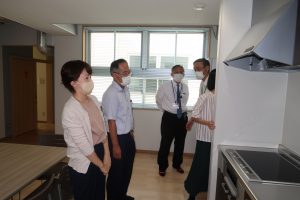 【Many faculty and staff members participated】
In addition, he was scheduled to attend the ceremony, but was absent due to the declaration of a state of emergency, and Tetsuya Yagi, a member of the House of Representatives,
Reiwa came to the school on August 31, 3.
After the tour of the Terushi dormitory, a meeting was held with Principal Tagawa and the dormitory supervisor Kanesaka, and Principal Tagawa gave a new type of
There was an explanation on measures against coronavirus infections, etc., and the importance of education and research at Toyota National College of Technology in the future.
We exchanged opinions on the future of our school in anticipation of the declining birthrate.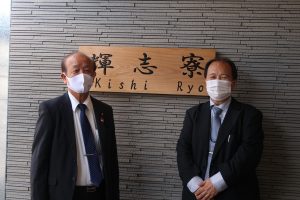 【At the entrance of the Terushi dormitory, Representative Yagi and Principal Tagawa】
【Tour inside the Terushi dormitory】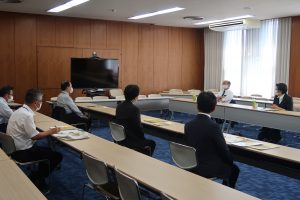 【Meeting with Principal Tagawa and Dormitory Supervisor Kanesaka】
In addition, on September 4, Reiwa, the president of the Toyota National College of Technology Education Support Association and other officers also visited the Terushi dormitory.
Was. We would like to express our understanding and cooperation to the members of the Education Support Association regarding our school's educational activities on a daily basis.
Thank you very much. We look forward to your continued support.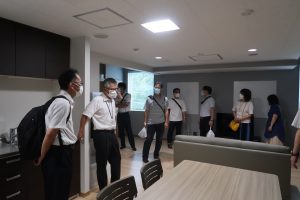 【We also had a tour from the Education Support Association】